December 2015 | Portable measuring arms fixed securely at the push of a button
Process reliability from Witte
Witte Barskamp GmbH & Co. KG makes a significant contribution to process reliability with its vacuum base for stable fixation of portable articulated measuring arms.
Because the vacuum supply is integrated in the housing of the base this ensures permanent "suction" at the place of use and no external power supply is required. The setup is very easy and quickly done.
The special seal geometry, which is available in two different forms, can be used on slightly curved and structured surfaces as well as used vertically. The vacuum base can even be used overhead on suitable surfaces and when secured with a wire cable sling.
Under optimal conditions, a holding force of a good 4500 N is achieved and once the negative pressure is reached it is constantly controlled by a built in automatic pressure monitor.
All operating elements are clearly arranged on the front of the device and consist of the on / off switch, the monitoring lights for the charge status of the batteries, a pressure gauge for permanent vacuum monitoring, the ventilation button for the release process and the charging socket for charging the batteries.
Various hole patterns for attaching the most common measuring arm brands are integrated into the top surface. This means that the base is flexible and can be combined with measuring arms from different manufacturers.
Dezember 2015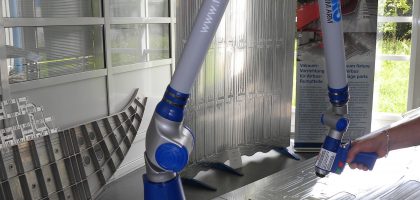 Back to overview