August 2018 | Witte: Vacuum clamping device with positioning template
Soft plastic injection molded parts clamped accurately and gently
Soft and sensitive plastic caps, such as those required for detergent bottles, are difficult to measure, because repeatable clamping of such flexible plastic parts requires special solutions. Witte Barskamp GmbH & Co. KG has now presented one of these: a vacuum clamping device with a dedicated positioning template.

All clamping forces acting on a component tend to bend it and falsify the measurement result. Therefore, especially with soft plastic parts, it is important to avoid any type of punctual clamping pressure and thus ultimately deformation.
The German innovation leader for vacuum clamping technology, Witte Barskamp GmbH & Co. KG, has now presented a special solution based on this technology: a vacuum clamping device with positioning template for plastic caps, which prevents workpiece deformation.
A combination of suction cups, vacuum areas, stops and a positioning plate enables twelve workpieces to be vacuum-clamped at the same time. The test parts are conveniently inserted by hand and their entire outer contour is accessible for the actual measuring process.
The new vacuum clamping device from Witte ensures repeatable positioning and clamping while maintaining the three-dimensional workpiece geometry.
August 2018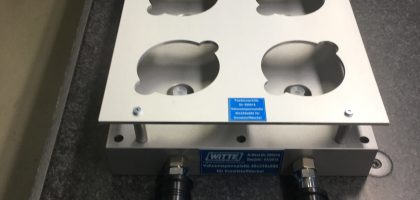 Back to overview