December 2016 | Improved modular vacuum unit
Suction capacity of 16m³/h, integrated liquid separation, compact design
Witte Barskamp GmbH & Co. KG is presenting an improved modular vacuum unit with a suction capacity of 16 m³ per hour. In addition to a robust pump for generating the ultimate vacuum of up to two hectopascals, the main features of the universally applicable unit are the large-volume reservoir with integrated liquid separation and the compact design.

Further innovations that have been incorporated are the swivel and fixed castors for a more effortless process when changing location as well as easier manual emptying of used liquids. Coolant that was collected during clamping and machining processes can be drained off simply by opening a ball valve and then returned to the coolant cycle.
For the automatic operation of the unit as well as a constant level of operating vacuum during the clamping process the min/max limits of operating vacuum are set with an integrated differential pressure switch. Clamping parameters can be set individually and adapted to the respective manufacturing process. The unit works largely self-sufficient and only requires a low level of maintenance at fixed intervals.
Vacuum units are used in numerous industrial processes when clamping non-magnetic components, for example in mechanical engineering for workpiece clamping or on machine tools for grinding, milling and drilling.
With the improved vacuum units from Witte, users can choose from eight sizes and operating voltages for their individual needs.
December 2016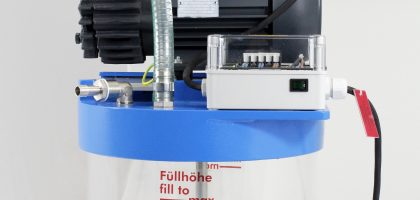 Back to overview