August 2020 | 1.000 Structure plates used in quality assurance worldwide
Witte Barskamp GmbH & Co. KG reaches sales milestone
With the delivery of the thousandth FixBase structure plate, the German fixturing system specialist Witte Barskamp GmbH & Co. KG announces another international sales milestone. The accurate and robust structure plates serve as the basis for measuring fixtures, as an alternative for horizontal arm CMM measuring tables, as transport plates or cubes with five usable surface sides.
The FixBase plates, in a sandwich type design, offer maximum stability with a comparable low weight and are compatible with the globally established Witte ALUFIX modular system for fixtures with frame or column type designs.
FixBase can be used in combination with articulated arm measuring systems, tactile coordinate measuring machines, laser, scan or photogrammetry systems and even on indexing or rotary tables. Additions such as hovercraft or roller systems upgrade them to manually operated mobile solutions. Variants with rail tracks or friction wheel drive and transponder guidance offer a fully or semi-automatic loading solution.

Vertical structure plates on turntables with air bearings and / or horizontal ones on motorized rotary tables provide additional freedom of movement - for example in robot measuring cells. They are also ideally used as driverless transport systems (AGV) to be integrated in fully automatic loading system environments – either rail-guided, transponder-guided or autonomous.
The plate dimensions range from approx. 1,200 x 800 x 100 millimeters to 10,000 x 3,000 x 800 millimeters.

Over a third of the 1,000 variants delivered to date are made up of combined transport / base plates, half of which are equipped with pneumatic or electric drives, or commute independently as automated plates between the loading and measuring stations.
In addition, some "exotics" have been manufactured using FixBase ideology - for example several so-called Universal Measuring Fixtures. With them, a complete vehicle is driven or pulled onto the structure plate and electrically raised up to a height of one meter for inspection purposes.
August 2020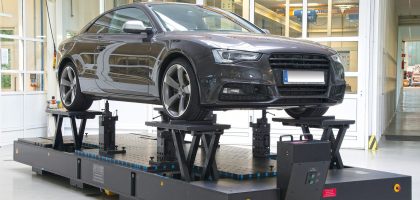 Back to overview