August 2017 | Vacuum base for measuring arms
New and improved
Witte has further improved its vacuum base for measuring arms and measuring devices, which has been in use in quality departments around the World for years. Optimized and newly developed control elements make the system even more user-friendly and powerful.
The self-sufficient vacuum base with integrated vacuum generator and control elements offers measuring arms and devices a solid base on site.
Witte has now developed this vacuum base further. Not only can it be used on freeform surfaces as before, but it now has added control elements and other optimized features. A digital pressure switch is responsible for precise vacuum control, which maintains the operating vacuum within a safe range and without loss.

The actual vacuum value is now shown on a clear display instead of a mechanical dial indicator, the maximum and minimum limits are fixed and therefore guarantee secure positioning of the base on a given surface.
The vacuum base is battery operated, therefore independent, without any connection to a power outlet during operation. A controller monitors the battery charge status. A battery charger is supplied with the unit.
Various threaded grid patterns are machined in the top plate of the vacuum base to accommodate different makes of measuring arm or their thread adapter rings.

August 2017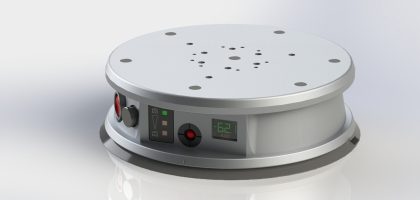 Back to overview