March 2020 | Product development at Witte: ALUFIX System 47
New fast assembly concept reduces time and costs
With the quick assembly concept "ALUFIX System 47", the German fixturing specialist Witte Barskamp GmbH & Co. KG is bringing a completely new solution for fixture design to market. It promises high economic efficiency with uncomplicated handling and cross-system compatibility.
Significantly reduced design, assembly and alignment times with significant cost reduction at the same time. Witte now sees these, typically known as, opposing poles in fixture design combined with its ALUFIX quick-assembly system 47.
System 47, which has been consequently optimized in regards to overall solution and general handling, combines the genetic strengths of the globally established ALUFIX modular "fixturing kit" with completely new options in terms of economic impact and flexibility. The basis for this is an innovative connection technology consisting of form-fitting and force-fitting corner connectors that replace the otherwise common connections made up of sleeves, screws, crosspieces, crosspiece nuts and couplings. The result is a significantly simplified structure with the same precision and increased stability.
The ALUFIX System 47 quick fixturing kit essentially consists of undrilled profiles with face end threads, threaded profile inserts and compact corner connectors. The ALUFIX System 47 is upwards and downwards compatible with all other ALUFIX system components of the Classic and ECO series and can be individually configured in combination with them. In accordance with the basic ALUFIX concept, the new system series can also be retooled without restrictions.
Like all pioneering innovations from Witte, the ALUFIX System 47 has extensive property copyrights.
March 2020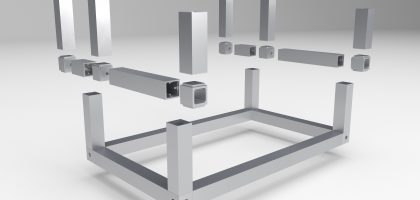 Back to overview