June 2022 | Secure fixation of irregular shaped workpieces
New from Witte: FracVise fractal vise
With the fractal vice "FracVise", the German fixturing specialist Witte Barskamp opens up new possibilities for fixing irregularly shaped workpieces. The precision vice has multi-part clamping jaws and rotating elements that automatically adapt to workpiece contours "from small to large" when clamped.
With a total of 16 contact points at the smallest fractal jaw clamp level, FracVise is able to adapt to particularly complicated silhouettes and to fix them gently.
In addition to the conventional "horizontal" orientated clamping method the specially designed jaws ensure a finely dosed, automatic pull-down of the part. As a result, FracVise displays an ideal, workpiece-specific combination of fit and force fixation. A jaw height of 25 millimeters and a clamping width of 0 to 92 millimeters allows room for larger workpieces.
In terms of manufacturing technology, the new product is based on the modular ALUFIX fixturing system from Witte. Its all-round finely machined components made of high-strength or medium-strength aluminum thus adhere to the well-known ALUFIX precision, while an all-round anodized coating ensures the best wear resistance.
Various mounting holes on the underside allow easy assembly of the fractal vise with screw or quick connections.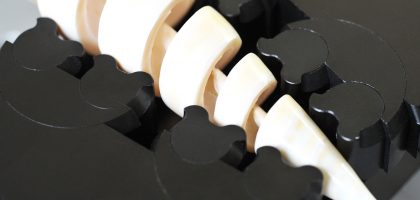 Back to overview