July 2019 | Black microporous chucks for reflection free measurement
Continuous development in vacuum clamping technology
Witte Barskamp GmbH & Co. KG is the world's first supplier to bring non-reflective microporous vacuum clamping chucks made of black METAPOR material onto the market.
The new black plate variants were specifically developed for use in measurement applications in which optical reflections have often been a problem up to now, for example when checking transparent RFID foils, wafers or when checking the quality of foils.
Microporous METAPOR vacuum clamping chucks from Witte enable absolutely "even" clamping or holding of the part. Thin materials are not affected by suction holes, suction grooves etc., which avoids the risk of deformation. Especially in automation processes, the minimal weight and high precision of the microporous chucks also scores points.
The pressure distribution in the special METAPOR structure enables uniform load-bearing forces, even if the surface is only partially covered. This means that workpieces of different sizes can also be fixed on the same plate. Likewise, the porous surface can be divided into separately switchable areas and vacuum can be applied to these individually. The chucks, each provided with a corresponding control, can also be heated up to 100 degrees Celsius and cooled.
The new black, non-reflective chuck variants from Witte are now available and obtainable in all individually desired geometries.
July 2019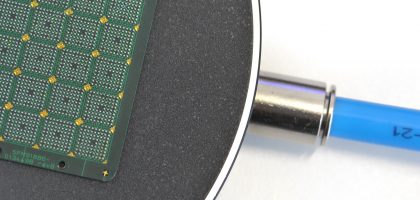 Back to overview