November 2020 | New vacuum clamping system for sophisticated contour workpieces
Witte Barskamp: QuadroVac expands product range
The German clamping specialist Witte Barskamp is presenting a new vacuum clamping system especially for strongly contoured workpieces that have to be machined in many axes. "QuadroVac" is primarily used for milling, drilling and thread cutting on small to medium-sized workpieces made of wood, plastic, glass or metal, for example on cast parts. Also on those with steps, pockets or through-cuts.

The QuadroVac system consists of modularly combinable vacuum base plates in various formats, for example 300 x 450 millimeters. These in turn accommodate clamping elements of the same size in a grid of 150 x 150 millimeters - individually distributed as required and according to the shape of the workpiece to be clamped.
Elements with a flat clamping surface are available for covering areas of the base plate that are not required and which can be milled flat by the user at the desired height - as well as with variable molded sealing elements. The latter ensure unprecedented flexibility in five-sided machining of clamped small and medium-sized workpieces.
These elements are fitted with a total of 25 molded sealing elements (pods) in a grid of 30 x 30 millimeters. They form the contact point to the component through which it is sucked down and thus clamped. QuadroVac pods that are not required for the component geometry can be unscrewed by hand and are available at any time for other applications with different component geometries.
The 30 x 30 millimeter grid, which can be individually equipped, enables both closely spaced holes and through-cuts as well as those with a correspondingly large diameter. And - due to the pod height of 25 millimeters - a comfortable working height. In addition, QuadroVac allows the component to be machined laterally thanks to the component being clamped higher than the machine tool table.
With its freedom of configuration, the QuadroVac vacuum clamping system is suitable both for series processing and for holding frequently changing part shapes.
December 2020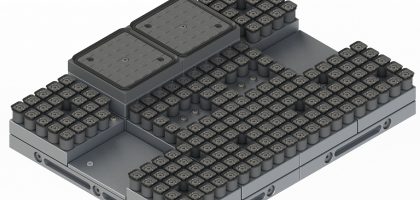 Back to overview