September 2019 | New features and update of vacuum base for measuring arms
Witte Barskamp GmbH & Co. KG
With significant technical and visual innovations, Witte Barskamp GmbH & Co. KG presents the new generation of its vacuum base for use with articulate measuring arms. The universally applicable base secures measuring arms of almost all brands at the push of a button, quickly and securely even in difficult operating conditions.
A battery-operated miniature pump generates a vacuum in seconds, with which the plate of the base is sucked onto the surface. An additional special vacuum seal (included in the standard supply) even allows fixation on curved surfaces, more commonly found in the shipbuilding or aerospace industry.
A grid pattern on the upper side enable quick and uncomplicated mounting of measuring arms of practically all common makes. Since the vacuum pump and all warning, functional and control devices are already integrated in the compact design, the system does not require any additional equipment.
Witte has equipped the new generation of the vacuum base with an improved pressure switch, a digital vacuum display and a battery charge status indicator with LEDs. An additional second seal ensures the firm connection of the base on freeform surfaces as well as problematic surfaces, such as tiled floors with joints or concrete.
The technical innovations are accompanied by a visual update of the vacuum base.
September 2019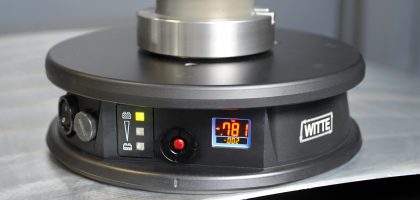 Back to overview