October 2020 | New: precision grid base plates with variable-size fitting bores
Exciting practical solution from Witte Barskamp GmbH & Co. KG
With its new generation of precision grid base plates, the German fixturing specialist Witte Barskamp has implemented a to date unique practical solution: size-variable fitting bores. They enable fixtures to be set up completely independently of the basic dimensions of the plate fitting holes and the clamping system used.
ALUFIX grid base plates from Witte create the basis for precise and repeatable measurement of mounted workpieces and fixtures. Individually adapted to the respective measuring volume, the type of measuring machine or fixture, they allow the set up of different and/or changing clamping configurations.
The new generation of the product series that has been tried and tested for decades scores with a decisive further development: size-variable fitting bores. The so far unique solution makes the plates from the German supplier currently the most flexible of their kind.
Their fitting bores on the plate surface offer the optional advantage of size variable bushing inserts with precision bore and thread. This enables extremely versatile, user-specific and, above all, repeatable, precise clamping configurations. And this completely independent of the basic dimensions of the plate holes and the clamping system used.
The new precision grid base plates are fully compatible with the entire variety of parts of the modular ALUFIX fixturing system from Witte - but also with practically all third-party systems.
Even in their standard dimensions and designs, the grid plates harmonize with all standard coordinate measuring machines, optical measuring systems and devices. Individual user requests can be met in a variety of combinable grid widths, bushing designs, panel thicknesses, dimensions and surface treatments.
The new ALUFIX grid base plates are available immediately and in the first few months after the market launch at special conditions.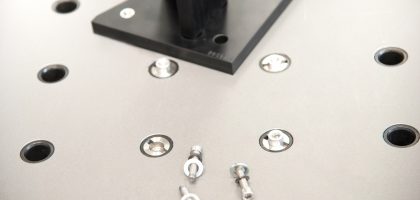 Back to overview