October 2021 | Mobile structure plate with multidirectional drive
New automation solution from Witte
With the multidirectional controllable structure plate FixBase MDD, the German fixturing system specialist Witte presents its latest solution for fully automated mobile measuring room equipping and loading processes.
FixBase MDD (MultiDirectionalDrive) is based on the tried and tested Witte structure plate system in sandwich design, supplemented by newly developed modular drive and control technology. It enables unlimited, free combination of driving directions.
At the center of the drive concept are eight Mecanum wheels per chassis - four of which are driven - each on two air-bearing chassis swing arms. For controlled, smooth and balanced starting, moving and decelerating. Hovercraft cushions and Z-positioning ensure complete relief of the wheels, accurate lowering of the plate to the Z-position and exact levelling of the plate also on uneven ground.
This Witte innovation avoids unnecessary downtimes thanks to loading contacts in the plate and on the floor, which ensure that the on-board batteries are constantly recharged during measuring or parking phases
Thanks to open interfaces and manufacturer-independent compatibility with all common measuring systems, the FixBase MDD plate allows complete classification and integration in existing user-specific workflow systems. And in them a completely autonomous, partially or fully automated operation.
Oktober 2021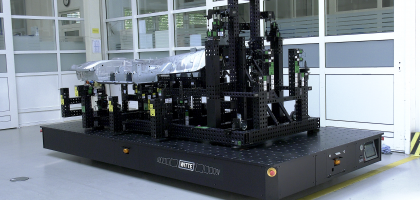 Back to overview