May 2019 | Self-propelled feeder system for measuring fixtures
Closing the gap in automation: Witte Scooter
In automated processes, loading and positioning of workpieces on portal measuring machines or rotary tables often proves to be a bottleneck. With the unmanned, self-navigating shuttle system Witte Scooter, Witte Barskamp GmbH & Co. KG is now presenting a solution to close this automation gap.
The Witte Scooter consists of an autonomous navigating drive unit and a working unit for retrieving and transferring a working surface (load) - for example a grid base plate or pallet with a mounted workpiece. As an unmanned, self-navigating shuttle system, the scooter commutes on pre-programmed routes between one or more setup stations and measuring systems. Retrieving and positioning the pallet / load is done with millimeter precision.
Not tied to rail systems or induction loops, but rather to move freely within specified digitized floor areas, the scooter adapts quickly and with great ease to any room layout.
The system is prepared for unforeseen situations: A laser-based 360-degree orientation and safety system stops the Scooter in front of sudden existing obstacles, and then proceeds on alternative routes if the obstacle remains in its' path.
The Witte Scooter is powered by an energy-optimized electric drive that automatically receives its battery charge via contacts when docking at the loading station. The power is transmitted to drive wheels, which bring the scooter up to a driving speed of up to 2.0m/s (depending on load). The scooter generates electricity and compressed air for its own needs and also supplies the energy to the working unit on the measuring equipment or turntable. There is merely a mechanical connection of the working unit on the measuring machine table.
May 2019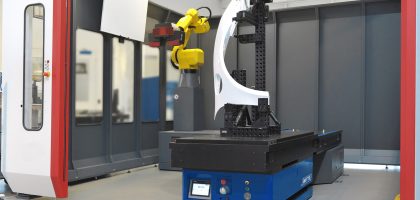 Back to overview