February 2020 | Fixture Specialist Expands Capacity
Witte Barskamp GmbH & Co. KG
The German fixturing specialist Witte Barskamp GmbH & Co. KG is responding to the growing international demand for automated feed and transport systems with a significant expansion of its assembly capacities.
The company, which is based near Lüneburg, is putting a workshop into service specifically designed for electrical assembly and quality testing. On the basis of its aluminum structure plates in sandwich design, Witte offers a large number of intelligent driverless transport systems (AGV) for fully automatic loading systems, either rail-guided, transponder-guided or with autonomous navigation.
In addition to significantly more space for production, the newly furnished hall also offers a spacious area for extensive drive/navigation and overall function testing of fully assembled and ready-to-ship transport systems.
"With this expansion of capacity, we are primarily responding to the growing international demand. But we also see it as a strategic decision with our stronger, future focus on automation" says co-managing director Jens Dueffert, explaining the investment decision.
Witte is currently investing in other areas as well. For example, the expansion of fabrication capacity with new three- and five-axis CNC machines, also the recently completed broadband connection with 600 Mbit / s and the use of specialized software to fulfill TISAX requirements.
February 2020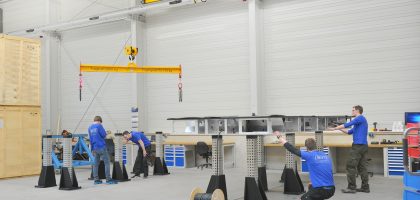 Back to overview