May 2022 | Higher process reliability through signalling hook clamp
New solution detail for clamping system from Witte
A little thing that catches the eye: hook clamp with LED control display for fixture building. With this safety-relevant detail, the fixturing specialist Witte Barskamp presents another innovation within its modular fixing system concept ALUFIX.
In fixture building, hook clamps are used where a workpiece is to be mounted and clamped at the same time using bores. As well as for clamping points that are so far away from the workpiece edge that they can no longer be reached with toggle clamps.
In many cases, the clamps are placed in areas deep within a fixture and difficult to access so that their operating state - ie whether open or closed - is difficult to see.
The new hook clamps developed by Witte eliminate this potential weak point in process reliability. They signal their on/off operating status clearly and quickly via green or red LEDs. The light-emitting diodes are fed independently of a mains power supply via an integrated rechargeable battery with a running time of up to four weeks in continuous operation.
In addition to the local LED display directly on the hook clamp, the signals from several units can be combined in a central information panel. In this way, all of the clamps within a complex fixture can be seen at a glance. Integration into a user's higher-level process control system is also possible.
In a further future expansion stage, Witte plans to implement dynamic clamping force control and monitoring into the new electrified hook clamps.
The variants with red/green LED operating status display will be available from mid-2022. It is also possible to retrofit most of the ALUFIX hook clamps already in use with the new signal function.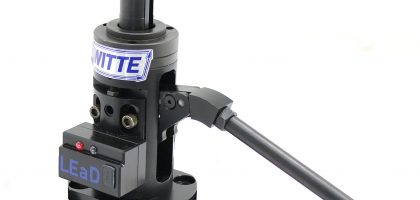 Back to overview