May 2017 | Increasing clamping surface by simply connecting
Witte product development: Modular Vacuum Chucks
Witte Barskamp GmbH & Co. KG further develops its concept of vacuum plates by an additional intelligent system solution: modular increasing of the clamping surface simply by connecting chucks using a quick connector. A required clamping surface size can now easily and quickly be achieved by simply lining up and connecting vacuum plates of the same product line.
Using the modular plate sizes 200x300, 300x400 or 400x600mm allows clamping surface expansions in 2 directions.
For example, by connecting 2 vacuum chucks with the size of 200x300mm you can create either 200x600 or also a 300x400mm clamping surface. In other words, when utilizing multiple plates, it is possible to create a much larger clamping area than a single chucks' outer dimension. This opens up more options and creates flexibility.
The quick coupling connection elements are included with the chucks. Included are also accessories for mounting the chuck to a cnc machine table, wire reinforced vacuum hose for the vacuum pump connection, a specific assembly tool for the use with the blind plug or quick connector as well as a standard rubber adapter mat.
Using adapter mats made of a special rubber compound gives additional options and possibilities. With these the user can achieve highest precision and accuracy. Now it is possible to machine pieces much smaller than the raw material with the size of the vacuum chuck (i.e.200x300mm for example). Carefully adapting the cutting parameters, it is possible to machine part sizes of only a few square centimeters.
May 2017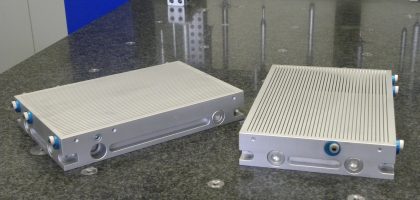 Back to overview