March 2016 | Continuous expansion of the structure plate program
FixBase-Plates and positioning systems from Witte
Witte Barskamp GmbH & Co. KG, the leading German provider of clamping technology and fixture building, is continuously expanding its range of FixBase plates and positioning systems in sandwich style design.
The accurate and robust structure plates from the Witte FixBase product range serve as a base for measuring fixtures, as a replacement for horizontal arm CMM measuring tables or as transport plates. They offer maximum rigidity with a comparatively low weight.

The FixBase elements are developed according to Witte's modular philosophy and derive from the Witte modular system ALUFIX for fixtures in frame design established worldwide.

Consistently following the system concept of "modularity", Witte has continuously extended its FixBase range. Most recently with complex, integrated and controlled multi-systems.

A structure plate can be a stationary, in vertical or horizontal orientation, solution. Depending on the state of the ground or floor conditions, accessory systems such as hovercraft or wheel roller systems can be integrated and the result is a manually operated mobile plate. FixBase structure plates with floor installed rail-tracks or friction wheel drive (without floor rails) and transponder control offer fully or semi-automatic loading solutions.
The type and design of the user's measuring system is of secondary importance. Because FixBase can be used in combination with articulated arm measuring systems, tactile coordinate measuring machines, laser, scan or photogrammetry systems and even on indexing or rotary tables.
March 2016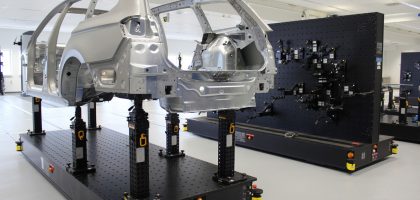 Back to overview