July 2015 | Self-sufficient vacuum chuck With two-sided vacuum clamping surface
Witte Barskamp GmbH & Co. KG complements product range
Witte Barskamp GmbH & Co. KG is expanding its successful product range of self-sufficient chucks to include a vacuum chuck with a clamping surface on both sides.
The new version has two separate vacuum clamping areas on the top and bottom. One side is designed for fixing to a base, the opposite side is for clamping the actual workpiece.
A fully automatic and self-monitoring module for generating vacuum is integrated in the base. Once the clamping process has been triggered manually by pressing a button, the workpiece is immediately clamped and the operating vacuum is permanently maintained until machining is completed. This is guaranteed by the integrated pump and control elements of the vacuum chuck.
It can be used in machine tools, grinding machines or in other manufacturing processes, independent of all energy supply systems. It can also be used in pallet changing operations, in which a chuck with loaded workpiece can be transferred to and from a pallet station.
Juli 2015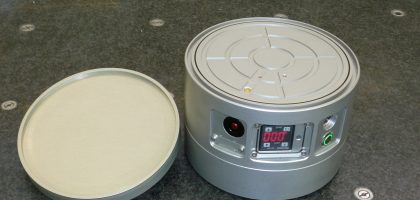 Back to overview