January 2016 | Processing of sensitive and very small components
ICE-VICE: Freeze clamping with the power of nature
With the freeze clamping technology ICE-VICE, Witte opens up the equally efficient and effective possibility of fixing sensitive as well as small and very small components accurately and tension-free. The only energy source required for this is the user's own in-house compressed air.
When clamping with the ICE-VICE system from Witte Barskamp GmbH & Co. KG, the workpieces are frozen onto the clamping surface for machining by means of a capillary water film. Relatively uneven workpieces can also be fixed in this way, as their gaps and recesses are filled with water.
The horizontal and vertical holding forces generated by freezing are sufficient to machine the components by milling, grinding, drilling or polishing. ICE-VICE proves to be a particularly fast clamping method: with it, many workpieces can be fixed simultaneously within seconds.
The refrigeration is generated exclusively by supplying compressed air to the clamping plate made of extremely heat-dissipating aluminum. The housing of the system is made of a temperature-insulating plastic.
Exemplary areas of application for ICE-VICE chucks from Witte are the semiconductor production, ceramic processing, medical technology, optics and difficult metal processing, for example on watch components.
January 2016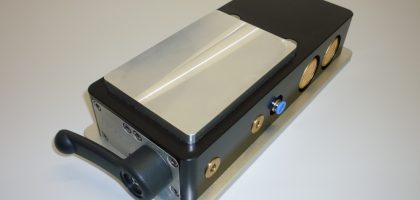 Back to overview