June 2021 | Black becomes standard
Product maintenance with the ALUFIX modular fixturing system
As a further step in product maintenance, the fixturing specialist Witte Barskamp will gradually convert the entire range of components of its modular fixturing system ALUFIX to black anodizing from late autumn onwards.
With the black aluminum coating that will be standard in the future, the clamping and fixturing system is even better equipped for the increasing use of optical measuring methods.
In the medium term, the black anodized version will completely replace the "natural-colored" aluminum version previously available simultaneously. Concentrating on the technically high-quality black ALUFIX version also increases the availability of the entire, highly diversified range of parts.
Remarkable: The product upgrade is not tied to rising prices for users.
ALUFIX from Witte is a globally proven clamping and fixturing system for reproducible workpiece fixtures in dimensional measuring and production measurement technology.
ALUFIX components are used for measuring fixtures, checking gauges, assembly and welding fixtures as well as meisterbocks or support structures for cubes and gauges. They are also used in prototype and model construction and design developments, for example as a base structure for clay models.
Fixtures assembled with the system can be reliably reproduced. The principle of the modular system allows an unrestricted, long-term multiple use of practically all standard elements built into fixtures.
Witte offers ALUFIX in four system sizes: for optical measuring and holding small parts, for medium to small single part fixtures, for medium to large assembly fixtures, master jigs etc. as well as for supporting large and heavy parts.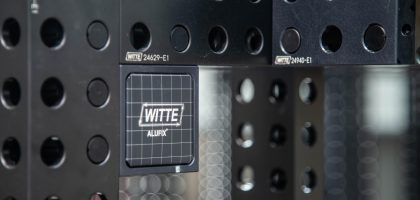 Back to overview